NEWS
MOUNT EVEREST - THE BRITISH STORY
Webmaster of the above site Colin Wallace, has added a new page to his site dedicated to memorials to Mallory and Irvine. The page can be viewed here.
We are proud to have contributed to this page, namely the pictures of the road signs and the painting of Irvine from Birkenhead School.
This page is the definitive source for information about memorials to the 1924 pioneers.
MOUNTAINOUS TALE BESET BY MOLEHILLS - DOUG SCOTT THE HARD WAY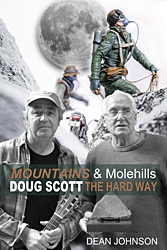 It had been over a month since songwriter Dean Johnson had sent an early draft of his musical biography of George Mallory and Sandy Irvine to the legendary mountaineer Doug Scott CBE.
In 1975, alongside Dougal Haston, Doug had been the first Britain to summit Mount Everest since Mallory and Irvine's doomed attempt in 1924. With a sense of poetic justice, Scott, as well as being a world famous ambassador of the climbing elite, seemed both a natural and symbolic choice as narrator for Ice Picks & Violets.
Mountains & Molehills is the account of the trials, tribulations, catastrophic and monumental events leading up to the recording of that narration.
It's hard to imagine a more dramatic backdrop to events as surrounded the phone call Dean received at 10am on Friday 20th March 2015. It was the morning of a total solar eclipse.
"Hello," crackled a voice in a warm East Midlands accent. "It's Doug Scott here."
Johnson commented on the planetary marvel that they were witnessing. "She can take the dark out of the night-time... and paint the daytime black," replied Doug, playfully quoting Bob Dylan. "I saw an eclipse once on a mountain in India." he reflected, as if still back there.
"Anyway I'll do it, record your narration… unless you find someone better. [Chris] Bonington lives down the road, you should ask Bonington. I can't do anything until the last week in May at the earliest, because I'm writing my autobiography you see." he concluded.
The drip-feed threads on Facebook on 25th April alerted the world to the terrible news of the earthquake in Nepal. By the end of May, Doug's promise to record the narration did not happen. The catastrophic events in his beloved Everest region had rendered the project inconsequential at the very least.
But then on 8th June he called. It was exactly 91 years to the very day of the last sighting of Mallory and Irvine, as they moved expeditiously forward.
"Let's do it on the 16th, can you make it then? It's a new moon," offered Doug.
"This is it. It's really going to happen." thought Dean Johnson, a long time since the eclipse. The sun was now heading towards its summer solstice. He was prepared for the unexpected, aware that things might change at any moment. With this latest window of opportunity just a couple of weeks away, things began to move expeditiously back and forwards themselves.
Mountains and Molehills
Doug Scott: The Hard Way
By Dean Johnson
Published by Posh Up North
To obtain a copy, email Dean at