NEWS
07/04/13: THE BEATLES AND ME A HIT IN RUSSIA!
The Wirral Globe reports that Dean's new venture, the book The Beatles And Me, is looking to be a hit in Russia. Read all about it here.
Dean and one of the book's contributors, Al Peterson, also did an interview for Russian TV. You can see this below. Also click here to see it on the TV Station's own site.
26/03/13: THE MAKING OF 'THE BEATLES AND ME' BOOK — NEWS ARCHIVE LINKS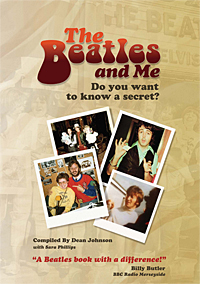 Beatles Examiner - 27 November 2012
Beatles Examiner - 16 December 2012
Liverpool Echo - 31 December 2012
Beatles Examiner - 29 January 2013
Beatles Examiner - 11 February 2013
Beatles Examiner - 13 February 2013
Click Liverpool - 15 February 2013
Beatles Examiner - 16 March 2013
Beatles Examiner - 19 March 2013
Beatles Examiner - 25 March 2013