BIOGRAPHY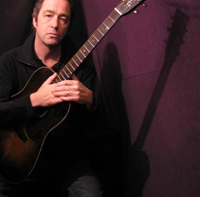 "Dean Johnson is evidence of the enduring scope for simply picking up a guitar and singing with it" – Paul Du Noyer (From 'Wondrous Place', Liverpool Music from The Cavern to Cream)
The above quote from Mojo magazine founding editor Paul Du Noyer's latest book, a wonderfully simple and evocative description of Merseyside's self-styled troubadour Dean Johnson, is as good a place as any to start this brief biography.
Born in Birkenhead at the height of Beatlemania, his burgeoning solo career began in 1994 with Dean Pan Alley, the first in a punningly titled series of albums. Two years later, with the release of Scouse Pie, the NME writer John Perry went as far as to mention Dean in the same breath as The Beatles and The Bunnymen when describing the album as 'bedsit genius'. The same journalist went on to nominate the attendant single, Being Young as 'Near Single Of The Week'. Such praise resulted in a flurry of great reviews, and landed Johnson a publishing deal with London's Eaton Music (previously publishers for Harry Nilsson and Jim Webb).
A demo of Dean's next album, The Training Of The Shoe, led to an introduction to Chris Difford, founder member of Squeeze, and no mean judge of a good song himself. Difford was an early champion of Johnson's quirky wordsmithery, and keen to spread the word on his protégé, introduced him to Bona Fide pop sensations Wet Wet Wet. They agreed to both back him and produce his next album, Multi Stories, in return for Dean adding a little lyrical bite to their music. The record was mixed by future Coldplay and Gomez producer, Ken Nelson.
The winter of 1999 saw Dean touring the UK with Squeeze, being joined periodically onstage by Difford & Tilbrook. A live document of this, entitled The Road To Hull again found much for the critics to admire, with rave notices from Mojo and even Loaded magazine.
As the new Millennium dawned, two further albums appeared: the first, entitled Loser Friendly, was the best received of all Johnson's seven albums, with The Guardian describing him as having "the passion of Bob Dylan with The Gallaghers' way with a tune". In 2001, the live retrospective Chapters further underscored his reputation as a sharp and incisive lyricist and tunesmith. The latter finally brought Johnson into the mainstream with the BBC Radio 2 playlisted single, Everybody's Got It, a collaboration with Scouse Soul Brothers The Christians, with whom Johnson had toured extensively. The song lodged itself on the airwaves for more than a month. Sharing the Beeb's airtime simultaneously was everyone's favourite muso, Paul Carrack, who, strangely enough, was also a member of Squeeze, who took Dean as his opening act across the UK for the next eighteen months, culminating in a career-defining performance at The Royal Albert Hall in November 2002.
With all this exposure to a large and discerning audience, Johnson broadened his musical horizons, and his next album, Soul System, not only reflected Dean's growing maturity as a writer, but also set him free to develop into a songwriter with a genuinely crafted approach to his music.
2006 saw successful UK tours with ELO prt 2 and Bill Wyman's Rhythm Kings. Wyman and Dean became friends, with Bill being tempted into a public house for the first time in 25 years to buy his support act a pint!
In 2007, the album The Black Arts was released; a return in some ways to the anger and incisive wit of old, but in more depth, covering a range of much darker subjects, such as drug taking and mental illness. The Daily Mirror proclaimed "this release should ensure a much wider audience for his acoustic blues and electric rock firestorms".
Sadly it didn't, so it was back to the studio for Dean, to record the album You Spill More Than You Drink, also released in 2007, a quirky album which saw a return in many ways to the sound of his debut album Dead Pan Alley. A single, Parrot Fashion, became a local radio smash and remains on the playlist to this day.
During September 2007, Dean travelled to Nashville accompanied by rock critic Gavin Martin to record with top ex-pat producer Stuart Colman (Jeff Beck, Shakin' Stevens, Little Richard and more). The single Cradle Of The Blues and the epic travelogue Girl From Monterey came from this session.
In October and November 2007, Dean also toured the UK successfully with 10cc.
2008 firstly saw the release of I Survived, a cover version of the lost Adam Faith classic. Released as a charity single in aid of The British Heart Foundation, recorded with the full blessing of the song's co-writer and producer David Courtney, Dean also embarked as support on a massive 48-date tour as special guest of (Faith's Stardust co-star) David Essex.
That winter Dean released his addition to the Christmas market, Mary's Song, recorded with assorted folk rock alumni, which once again lodged itself in the hearts of his fanbase.
Spring 2009 saw Dean opening for guitar legend Albert Lee, whom Dean had met through Bill Wyman, and later with Greenwich Village empress Carolyn Hester.
This summer Dean was introduced to Stuart Batsford, who had helmed projects at Warner Bros for the likes of Van Morrison. He invited Dean to join the roster at 360 Degree Music. A twenty-five track career-spanning compilation entitled Animosity International is due this autumn.
While this album was being compiled Dean was unbelievably invited to complete a fragment of a song by late Beatle George Harrison. Comprising of eight lines, the lyric had been in biographer Hunter Davies's possession for forty years. It was at the urging of Radio Merseyside's Spencer Leigh that Dean be asked to finish the song in the spirit in which Harrison had started it.