Wirral's Dean Johnson burst onto the folk scene in the late 1970's. Guitar legend Richard Thompson was an early champion of Dean's songwriting and performing skills.
A popular opening act for the cream of the Folk circuit including Martin Carthy, Dave Swarbrick and Gordon Giltrap, decades later Dean would become hard drinking genius John Martyn's support act on his final tours. When the new generation of folkies arrived, Kathryn Tickell and Seth Lakeman requested Dean's services to open their shows.
A chance meeting with Chris Difford of Squeeze catapulted Johnson into the mainstream, where he wrote and toured, appearing at The Royal Albert Hall and Wembley Stadium with the likes of Paul Carrack, Bryan Ferry, The Beach Boys, and most notably his longest supporters Wet Wet Wet. But It was whilst touring with David Essex that the 70's superstar suggested Dean's songs would work in a theatrical setting.
After 20 years recording and touring as a singer/songwriter where he enjoyed BBC Radio 2 success, Dean turned his attention to writing stage musicals. For the first, 'Bullets and Daffodils', he joined forces with the much loved James Herriot actor Christopher Timothy to tell the story of war poet Wilfred Owen.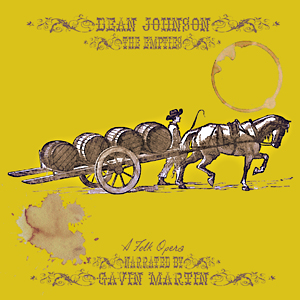 It spawned two radio hits and several West End runs. This was followed by the equally successful Mallory and Irvine musical 'Ice Picks and Violets', narrated by Doug Scott, the first Briton to conquer Mount Everest. 'New Dickensian' with actor Nicholas Ball (Hazell, EastEnders) completed a hat-trick of musicals in as many years.
Dean's latest offering is much more intimate; an all solo acoustic 'Folk Opera' (which may be the very first of its type) entitled 'The Empties', mining a rich musical furrow of rootsy 'Kneckerchief' folk rock last heard by the likes of Ronnie Lane, The Strawbs and The Faces.
It tells the story of star struck lovers Riley and Celly, via wartime hardships, family feuds, innocence and loss, perseverance and homespun wisdom, unfolding as a bittersweet yarn one could over hear in any small town bar. It is semi-autobiographical but could relate to almost any family.
The album version features Daily Mirror music critic Gavin Martin as the story teller. This production returns Dean to his natural habit of a solo performer but draws upon his diverse avenues of creativity of the last three decades.